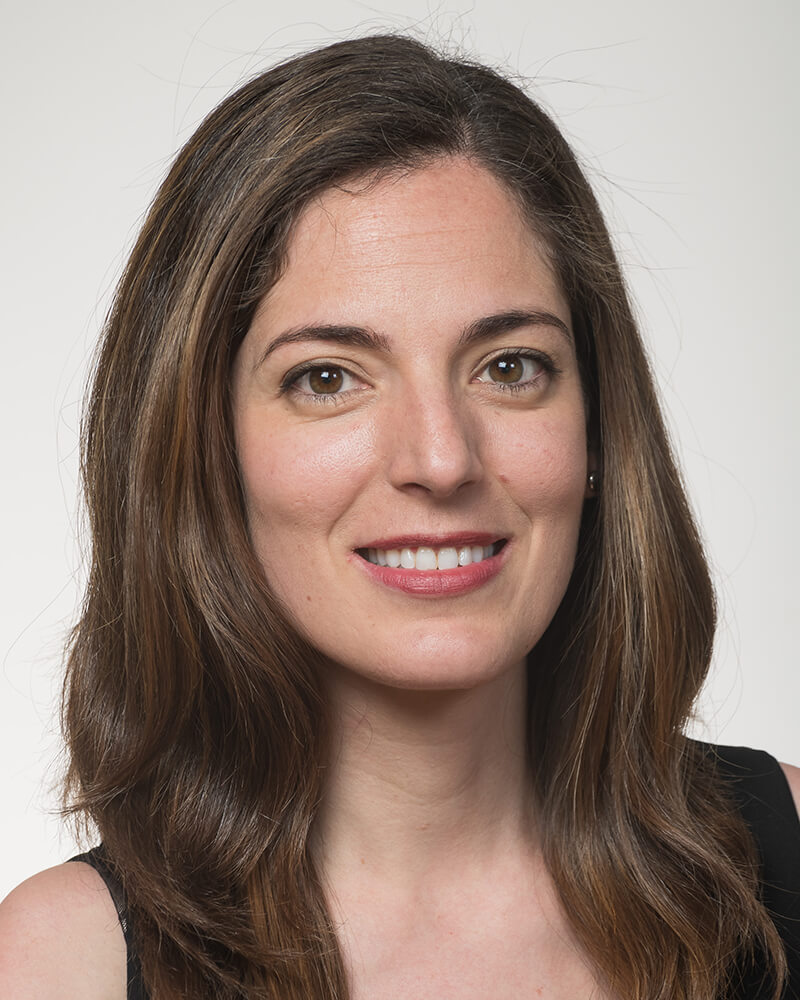 Dr. Elena Sanz is a Board-certified Periodontist and Dental Implant Surgeon with extensive training in Prosthodontics and Comprehensive Dentistry. Dr. Sanz is a Diplomate in Periodontics and Implant Surgery (American Board of Periodontology). Dr. Sanz has practiced in Virginia, New York, London, and Spain and has held several teaching positions over her 16-year career. She taught dental and postgraduate periodontics students at Columbia University in New York, NY and at King's College, London.
She trained in Periodontics and received a Master in Science from Columbia University in New York where she was awarded the Melvin L. Morris Award for Excellence in Postdoctoral Periodontics. She holds a Master in Science in Comprehensive Dentistry and a PhD in Transitional Research in Periodontics, summa cum laude, from the University of Barcelona, Spain.
Dr. Sanz is the recipient of the 2020 American Board of Periodontology Foundation Nevins BioHorizons Fellowship. She is a skilled clinician in all facets of periodontology and implant surgery. She has led and worked on research projects focused on the relationship of periodontitis and systemic health and the use of lasers to treat peri-implantitis. Her research has been published in leading scientific journals and she regularly presents lectures to general dentists and specialists.
Dr. Sanz has volunteered her time and skills to Dentists without Borders in Honduras, providing surgical dental care and educational activities in remote areas of the country. She is fluent in English, Spanish and Catalan and resides in the DMV area with her husband and three daughters.
Book Online Now
Complete the form below to book your appointment today.
Office Hours
Monday

8:00 AM – 5:00 PM

Tuesday

8:00 AM – 5:00 PM

Wednesday

8:00 AM – 5:00 PM

Thursday

8:00 AM – 5:00 PM

Friday

8:00 AM – 2:00 PM
CareCredit
CareCredit is a healthcare credit card designed for your health and wellness needs. Pay for the costs of many treatments and procedures through convenient monthly payments.
Our patients leave smiling


Dr Fishman has been my dentist for over 20yrs. He is Professional, Knowledgable, Caring and listen to your concerns. For months I had been experiencing headaches all day every day. Seen a Neurologists, had an MRI and was on prescription meds yet headaches continue. Emailed Dr Fishman.. yes you can contact him through email as well. The next day he fit me in his busy schedule and after asking me so…

Felicia V.



Dr. Fishman is an excellent dentist and he is caring and compassionate when dealing with patients. he goes the extra mile for my mother every time as he knows dental visits are a big deal for someone her age. We really appreciate all he does. In addition, all the staff are very helpful and efficient.

Katherine I.



The 2 dentist that I have been scheduled for were extremely thorough and patient when working on my teeth. I highly recommend them when it comes to oral surgery. They made me feel comfortable during the procedure.

Eric G.



Dr. Edward Fishman has been my dentist for over thirty years. This is due to the long standing comfort and professional confidence that I have in Dr. Fishman and his team. Dr. Fishman is more than a seasoned, experienced dentist. Over the years he keeps me well informed of my dental health and advises me of matters that may need attention in the future. As a result, my dental health is great and I…

Linda W.



I started seeing Dr. Pryor as my Orthodontist here at Skyline. He is wonderful and his assistant Candace is an absolute delight. I'm so happy with my treatment and honestly people can't even tell I have braces.. looking forward to my Hollywood smile! The front desk /appointment coordinator's are always so polite. They make going to the dentist a pleasure. Thanks so much.

A U.



I have been a patient of Dr Lebonitte and his team for close to 20 years. My children grew up in this dental practice and my husband is also a patient. We've referred many folks and they've all become patients of Dr. Lebonitte

Lori J.



I have been coming to dental Associates with my children for over six years.. we have seen many of the dentist and hygienist there. Our last visit was more of an emergency as my 6 year old fell and hit his front teeth.. I called up the office and they were extremely caring. I was scheduled to see Dr. Fishman,. He is so laid back and compassionate. He put my mind to ease and reassured everything wa…

Jessica A.



Dr. Lebonitte and his team are amazing! Wajma, Kio and Nici give the best service. The staff and Dr. Lebonitte go above and beyond to make you feel welcome. Best dental office I've ever been to.

Abd D.



Love this practice! Came in for the first time front desk staff was awesome. Charlene & Dr Fishman were very comforting they explained everything and answered all my questions. Will absolutely recommend them to everyone!

Falco T.



If you are looking for a periodontist, Dr. Choudary is a great one. He explains everything and gets things done very quickly. My general dentist is Dr. Lebonitte who also is very patient and explains all procedures, etc. This does not even cover the painlessness of the treatments they both offer. I have been a patient for more than 30 years and can't say enough about them.

Nancy T.



I have been coming to dental Associates with my children for over six years.. we have seen many of the dentist and hygienist there. Our last visit was more of an emergency as my 6 year old fell and hit his front teeth.. I called up the office and they were extremely caring. I was scheduled to see Dr. Fishman,. He is so laid back and compassionate. He put my mind to ease and reassured everything wa…

Jessica A.



Dr Butts is the best dentist in the world and I am not exaggerating. He is always professional, caring, communicative and kind. He keeps up on the latest thinking on dental procedures so you know you are getting the best care possible. I have been his patient for 30 years or so and would never change.

Karen S.



The respectful and efficient attitude of the staff speaks very highly of their work ethics. The administrative team delivers the sterling performance required to create a great support team making the experienced dental professionals of Dental Associates of Northern Virginia be one of the highest best recommended dental offices by well served customers.

Esther G.



I always have a good experience when I go to Dental Associates. Dr. Fishman is the best dentist ever. and the staff couldn't be more wonderful; i love them all. and most importantly, my teeth look and feel great

Susan M.



Dr. Butts and his entire staff are caring, professional, and understanding. They work hard to ensure that my teeth and gums are healthy. I have been going to Dr. Butts for over twenty years and have NEVER had a problem with any work he or his staff has done. I would HIGHLY recommend Dr. Butts and his practice to anyone that needs dental care. They are the best. I have recommended them to many of m…

Paul N.



Every one is so wonderful and thoroughly professional, never had any thing to complain, not just this visit, but every time I have been there in the last 4-5 years.

Lachmandas K.



Dr. Butts, his oral hygienist, and office staff are the most professional, personal, and helpful of any dental practice i have used. Dr. Butts is not just a dentist, he is an artist. I have had fillings, crowns, and inlays done by Dr. Butts. All were pain free and accomplished with the highest precision. I highly recommend this practice for excellence and personal care.

Russell L.



Dr. Lebonitte and the team at Dental Associates are the best. I am always seen right away. His hygienists are good, and make my cleaning a breeze. I no longer dread going to the dentist. I also did Invisalign with Dr. Lebonitte and Kio, his assistant. They made it easy, and continued my treatment until my results were perfect. Now I have the perfect smile I recommend them to everyone I know. I lo…

Lauren G.



👍Dr Dave Butts is our dentist for a lifetime. He has been my and my husband's family dentist for more than 30 years. He is the most dedicated and competent doctor I have ever known, not to mention the fact that he is one of kindest human beings you could ever want to meet. He sincerely cares for the dental health and overall well being of each of his patients. His skill and professionalis…

Nancy G.



Dr. Butts is not only a very nice person, but he is an excellent dentist. I have needed a lot of work to save my teeth and feel that finding him was a real blessing (I was referred to him by my periodontist many years ago and they collaborated to give me the best results.).

Eleanor H.



I find Dr. Fishman to be a very competent dentist, and I appreciate that he tries to be conservative with treatments and procedures, rather than diving in to the most invasive (and often, costly) option. I also liked that he was explaining what he was doing as he went along. I find him very personable and easy to get along with.

Jessica P.



I, and my family have been going to Dental Associates of Northern Virginia for more than 20 years. We enjoy the friendly service and couldn't be more pleased with the excellent workmanship.

Lynn R.



Best Dental Practice EVER.

Susan F.



I have been a patient here for almost two years now, and the experience has just been superb. The appointments are easy and the staff is very friendly.

Todd S.



If i could give this place 10 stars I would. I have always had serious anxiety when it comes to going to the dentist . My regular dentist was referred to me by a family member but i never felt quite right there. As soon as i stepped into the DAONV office i felt such a different vibe then any other doctors office i have ever been to. this place is FANTASTIC ! from the girls at the front desk to the…

Lindsay C.



Great dental experience! Friendly and welcoming office staff, very gentle cleaning, and thorough exam. Procedures have been very gentle as well. Actually looking forward to my next dental cleaning!

Amy A.



Miranda was wonderful! Absolutely loved her.. such a sweet girl and very personable- can't wait for my next checkup.

Jessica A.



I'm like most who absolutely hate going to the dentist. Dr. Fishman is one of the few I've met who from day one I came away trusting. He laid out a goal and plan for getting me on the right track and spent the time talking through each piece. Never making me feel pressured into a treatment. Can't recommend him enough.

Donald B.



I have been a patient of Dr David Butts for over 30 years and have been tremendously impressed by his professionalism, excellent skills and personal kindness. The Dental Associates offices are well organized and are also very welcome to their patients. I have recommended Dr Butts to several friends and colleagues all of whom have been just as pleased as I have.

Peter L.



I've been visiting this practice for about a decade now and have nothing but good things to say. Everyone is super friendly and professional and the office is run efficiently. Dr Butts is a fantastic dentist and just a great guy in general. I'll miss Dynell, who was his hygienist for a long time and retired recently, but Charlene is wonderful as well. They are so skilled and welcoming…

Ian C.



I always have great services in this place.Entire stuff is wonderful and very friendly.Dr.Liners always does great job and gives me the advices for the best options for my teeth.Ms.Miranda the higjenist has great smile,communication and give me advices for what's best for healthy teeth.

Pranvera X.



Thank you as always for the great service. The staff is friendly, well knowledgeable and very nice. Thank you all!!

Elvis X.



Prifessional, courteous and expert dental care!

Tracey H.



I have been a patient of Dr. Fishman for years. He is wonderful. He/the office works with your insurance in order to get the best price. He also does not push procedures, he discusses them with his patients and let's you make the final decision.

Karen (.



Great dentists and hygienists, wonderful front office staff. Can't ask for better.

Catherine J.



I am a very long-term patient with Dr. David Butts. I am quite please with his conservative approach

Gerald B.



They try to do something so that I don't leave the office in pain

Michael P.



Excellent care

Lynn R.



My visit to the dentist was fantastic and I had no trouble.

Alejandro V.



My experiences at Dental Associates have been very positive over the past many years. From the reception desk (Hindia, and others whose names I don't recall), to the dental hygienist, Nikki Charnoubi, to Dr. Lebbonitte, everyone has been professional, courteous and efficient.

Dennis D.



Friendly and efficient.

Zachary M.



I have seen several of the dentists in this practice for services as varied as cavity filling to pulling a tooth to dental implant. They are all fantastic, very skilled, explain what they're doing as they're going along. They worked with me very closely to develop a treatment plan for the extensive work I needed this year. My son has also seen them and does well with them. Office staff…

Susan F.



Professional service is beyond superb and excellent. Patient care is gentle and personal.

Joyce T.



Expertise plus care given by Dr. Fishman

Anne K.



Dr. Butts and Charlene are awesome!

Jeffrey S.



Staff was very friendly, my wait time was little to none and Dr. Fishman did an excellent job since going to dentist can be so painful at times.

Schirley S.



I always feel confident that the best dental practices are used when I visit, that all my questions will be answered and that I will feel welcome.

Cynthia C.



I went to see Dr. Fishman. I am a very nervous person, however, Dr. Fishman walked me thru the procedure explaining in great detail what the outcome would feel like. To my surprise, the process was painlese. I only wish I would have done this sooner.

M S.



I have entrusted my dental work to Dr. David Butts for 38 years and he consistently does great work.

Helen H.



run a good operation, on time, courteous, competent, and have good parking available

Edward C.



Dr. LeBonitte and Nicki. The Best!

John (.



They are very nice and the doctor took his time to explain to me what was going on.

Hong C.



Everyone was cheerful, pleasant, and nice. I have never had such uplifting dental visit experience… Another thing I liked was that they are all very professional and not inside-joking while treating a patient, as we often see in other places.

Sayaka R.



Great service and cleaning. Personable staff

Jacob A.



I have been going to Dental Associates of Northern Virginia for many years and have always been very pleased with their work. The dentists, assistants, and staff are very professional, courteous and patient – focused, and work to put you at ease! I especially appreciated being seen this week on very short notice for a dental problem!

John D.



Staff are competent, compassionate and positive.

Joan L.



Good care and a friendly staff

Gary (.



Efficient professional service

Damian L.



I love all of the staff. Everyone I have encountered is absolutely delightful.

Na W.



Consistently excellent care.

Frank G.



Consistency. I always get good quality service here!

Daurie S.



Dr. Butts has provided superb service to my wife and I for approximately the last 15 years. Even when we were assigned overseas, Dr. Butts ensured that we were able to obtain dental services when we visited the United States on brief unexpected trips.

John B.



I've never liked going to the dentist but this place makes my dental visits such a breeze! The staff is always helpful and Dr. Fishman is great! I actually look forward to my appointments. Definitely worth five stars!

Jenifer S.



they always put a smile on your face

Agron D.



My wife and I have been coming here for more than ten years, even though we live about an hour away — a true testament to the excellent dental care we've received from Dr. Butts and the rest of the team. The office managers make insurance paperwork a snap and ensure everything runs on time. If you're looking for a new dentist, your search is over!

Frank G.



Everyone at this office is very warm, welcoming, and knowledgeable. From the schedulers, to the front desk staff, to the hygienists and doctors. Highly recommended!

Candace B.



Thank you for the amazing service as always. Everyone is so kind and helpful. I highly recommend this Dental clinic.

Morena B.



Great group of dentists and very professional. My old dentist retired and I tried a new dentist near my house and I was not pleased. A family friend referred me to Dental Associates of Skyline and I'm glad I found a new home for me and my family!!

Adem H.



Dr.Lebonitte and Dr.Choudhary are great they brought my smile back

Bjonda H.



I love Nicole, she is my favorite hygienist to go to!!

Goni D.



I've gone to Dr. Fishman since 1990. His care and concern have always been excellent and professional. I particularly like his conservative attitude toward dental care. His new hygienist, Charlene, is wonderful and they make a good team. I actually enjoy my appointments and seeing Dr. Fishman and Charlene!

Janet (.



On Thanksgiving day I also want to thank my dentist's Dr.Lebonitte and Dr.Choudhary for bringing my smile back!

Bjonda H.



Kind people, on time, and everyone made me feel welcome. I don't mind going to the dentist anymore.

Wendy T.



i've been a patient of Dental Associates for over 35 years. My hygienist is terrific and so is my dentist. i'm given fair treatment and i have all my options explained thoroughly. great people all around.

John R.



Dr. Butts and his staff are always professional and caring.

Susan H.



On time with procedure. Answered questions. I was able to set up next appointment.

Jeanne G.



Always a positive experience.

Elissa R.



Dr Pryor is a fantastic orthodontist. My teeth look amazing after braces. He is professional and does great work. My kids will come out of their in the next couple of months but we can already tell that they look great!

Joan (.



Dr. Butts is awesome– so knowledgeable, authentic, kind, and gentle. Staff always enhances visit from the welcoming front desk to the hygienists/assistants. A special thanks to Hilda for her help during my last 2 visits to have little cavities filled.

Emily F.



Dr. Fishman fixed a badly broken tooth on VERY short notice and did an excellent job, in the most minimally invasive way possible. I am so grateful! Also, the staff is superb — I couldn't be happier with their kindness and competence. Kudos!!

D C.



I have never in 52 years ever felt Confident and comfortable and safe at any other dentist office. They always make me feel better

Christine B.



I have been a patient of Dr. David Butts since I moved to the DC area in 1985. He and the entire staff of Dental Associates are simply the best.

Mike P.



Staff was very personable and friendly. They remembered my family and even my extended family who comes to the practice.

Elizabeth T.



Staff is friendly, professional, prompt! They're the best!

Evelyn C.



Was able to see me on short notice!

Angelica G.



timely; friendly dental associate (Tracy) and dentist (Dr. Fishman)

Linda P.



Staff provided friendly, courteous, and professional service. I felt completely safe.

Darlene G.



As always EXCELLENT EXCELLENT EXPERIENCE! I always enjoy going to see Dr. Fishman. Now who says that? I love going to the dentist!

Jan D.



Everyone I've encountered has been excellent. They've really tried to put me at ease and always listen to my concerns and take time to answer any questions. This is a great group!

Donna R.



Very cordial and professional staff! Excellent work done on my teeth.

Eric G.



Timely service, friendliness of dental assistants, and the highest caliber of professional expertise of Dr. David Butts

Joyce T.



Familiarity with the staff and office

Ronald L.



The treatment I receive at Dental Associates' Skyline office is always exemplary.

Hilary F.



The dental hygienist was so nice and professional

Gargi S.



I've been a patient here for over ten years, particularly seeing Dr. Edward Fishman. He is very direct, knowledgeable, and even offers a little humor to comfort you when he's doing uncomfortable work (i.e. a filling, due to one eating tons of candy). The front desk staff is pleasant and they make numerous efforts to contact you ahead of your appointment to remind you. I appreciate that…

Monay J.



Everyone is pleasant. The doctor and staff are knowledgeable and I receive good treatment.

Gayla S.



Hilda and and dr butts were professional and pleasant. They described my situation and all that they would be doing. They were concerned about my comfort, also.

Susan H.



Professionalism

Stephen G.



Great professionalism. Expert in Dentistry and wonderful to be there.

Carole D.



Great office. Wonderful staff always friendly and helpful!!

Julian M.



Dr choudhary and his assistants are so amazing. They were very helpful and kind..they answered all of my questions! Friendly front desk staff, and Judy is so sweet!

Ali A.



Great quality of care and very knowledgeable dentists and assistants.

Laura B.



Tracy is wonderful- pleasant, professional and thorough.

Demetra M.



Just love how friendly everybody is from entering to leaving.

Tory S.



Excellent and highly knowledgeable and I professional staff. Great customer care and service.

Thomas M.



I don't know too many people requiring a referral to a dentist; that's why.

Susan F.



The dentists are highly-trained. Care is always outstanding and the office staff are incredibly professional.

Matthew O.



Dr.Fishman is the best dentist ❤

Esther L.



Lovely office which is also very clean and organized. Very professional office manager.The staff is great, has a high level of professionalism and make you feel among friends and family. They also offer true advices, they are caring and provide great service and thorough examinations. Highly recommend!

Arida95 L.



They are great dentists

Joanne H.



Good dental care, good service, terrific people.

Robert D.



Excellent service and care. Did I mention smile!!!

Madina M.



Quality dentist, orthodontist and gum specialist. Reception is very helpful and professional. I would not go anywhere else!

Joan (.



I love Dr Fishman and his tam, they are very caring individuals that never beat around the bush and tell you exactly what is happening with your oral care.

Doris B.



Dr. Fishman provides the best care, and no one can ask for any more.

Todd T.



The dentist and staff were so helpful and kind. Best health care experience I've had.

Kersten L.



Dentists are personable and explain procedures well.

Linda P.



Satisfied with the attention and care given.

Leland W.



Great service Great people

Charles R.



Dr. David Butts. He is the BEST.

Linda M.



Great customer service! I felt at ease with everyone I interacted with.

Brandon S.



Very happy with dental assistant, Mina and dentist, Dr. Fishman.

Mariatheresa M.



The care and attention given to patients are excellent.

Ronald L.



Everyone is always soooo nice and they always remember you. It never feels like an appointment.

Na W.



Great people, positive supportive fun

Daniel S.



Dr Fishman is great and his front desk is savvy and friendly!

D. B.



Quality of the dental staff.

Frances L.



I've been a satisfied patient for over 30 years.

Stephen W.



Excellent service and professionalism.

Kevin F.



Doctor Lebonitte is the best. The assistant and front desk people are considerate, caring and great professionals.

Beni D.



Dr. Butts is great at what he does and does not push you to do anything unnecessary. Explains everything REALLY well.

Jeanne S.



Excellent care

Abdallah K.



Dr. Lebonitte makes my experiences fun and enjoyable always!!! He is the best!

Jennifer O.



Great care.

Nicholas A.



Excellent service

Shirley T.



Personable service and knowledgeable staff.

Amelia A.



It's actually an enjoyable experience going to the dentist.

Stephen W.



I was happy with my visit

Savatri R.



Great service and staff!

Phelan (.



I find the staff to be quite friendly and personable, and the dentists are frank and honest with you.

Ronald L.



Friendly and experienced staff! Nice environment. They always follow up with reminders for checkups and appointments. Dr. Lebonitte is the best. Great Practice,. I never even feel like I'm at the dentist.

Vincent A.



No waiting; experienced staff.

Linda G.



Great practice

Edward L.



Prompt efficient quality care and service

Christine B.



Dr. Choudry did a difficult job with minimal pain and suffering. He got into the bone and got it done very efficiently.

Linda C.



Just started my Invisalign treatment with Dr. Lebonitte. He was very professional, yet a very easy going and friendly dentist I ever seen.

Salima S.



Dr. Butts is a great dentist – the best general dentist that I've ever had. His staff is terrific also.

Stephen D.



Have used you for 30+ years.. Would not have done that if I didn't think your service was terrific!

Patricia C.



Great dental team.

Michael C.



Friendliness and comfort level

Diane K.