Posted under:
General
Posted on: November 17, 2020
Invisalign: Frequently Asked Questions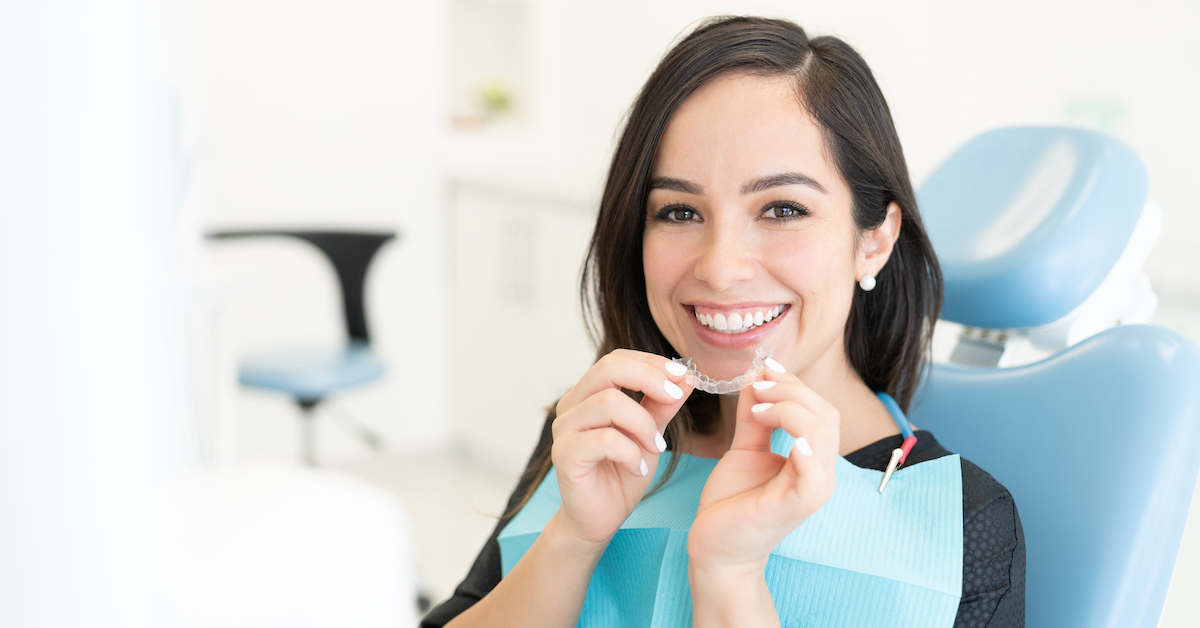 A beautiful smile can be your most important fashion accessory and the biggest boost to your self-esteem and self-confidence. If you're less than thrilled with the appearance of your smile, then the Invisalign system may be the answer for you. Invisalign has been used successfully by millions of people throughout the world for almost three decades.
Much of its popularity can be attributed to its virtually invisible trays that straighten the teeth like traditional braces, but without the discomfort or visually unappealing wires and brackets. One of the biggest advantages of the Invisalign trays is their versatility. You can remove them as needed for an important event or to play a musical instrument as long as you wear them cumulatively for a minimum of 20 hours daily.
How Does the Invisalign System Work?
Invisalign is a system of clear, plastic aligner trays that gently reshape your teeth into their proper alignment. The trays are made of SmartTrack®, which is a revolutionary and proprietary thermoplastic that molds to the shape of your teeth like a second layer of enamel. SmartTrack is FDA-approved and has no gluten, latex, BPA, or BPS, and it's been successfully transforming smiles for almost a decade.
Will Invisalign Work Well for Everyone?
Although Invisalign has helped millions of people achieve beautiful smiles, it's not for everyone. The ideal candidates are older teens and adults because young children may lack the dedication and skills to properly use the aligner trays. Factors that help to determine if Invisalign is appropriate include:
Age: Children and young teen's teeth and jaws are constantly growing, so it may be difficult for them to use the aligner trays.
Dedication: The trays must be worn for 20 to 22 hours daily for them to be effective. Although they can be removed occasionally for special occasions, they won't be effective unless they're worn a minimum of 20 hours each day.
Transparency: Is the invisibility aspect important to you? If not, then other types of braces may be more appropriate for you.
Degree of Correction Needed: Do you have teeth that have erupted at an angle or other types of dental issues? If so, then you may need to correct those issues before using Invisalign.
Who Can Determine Whether Invisalign Will Work for My Teen or Me?
A dentist or orthodontist must be trained and certified in the Invisalign process before they can provide it to their patients. Don't be misled by other types of aligner trays, such as mail order or do-it-yourself advertisements. Only a trained and certified dentist or orthodontist can supply you with Invisalign. They'll determine if the aligner trays will correct your issues or if you need to select a different type of braces.
What's the Procedure for Getting Invisalign?
The specific procedure for getting Invisalign will be unique to the patient, but generally, the procedure is as follows:
Your dental professional will make a thorough examination of your teeth and gums to determine the scope of work that you need.
Next, they'll review their findings with you, and together you'll determine the best course of action that will achieve your goals.
If you opt for Invisalign, then your dentist will make an impression of your teeth and use it to make a mold for your trays.
Approximately every one to two weeks, you'll receive new trays that will replace the old ones. Treatment usually takes between 12 to 18 months, depending on your goals, the degree of correction needed, and your dedication to the program.
You'll return to the office for checkup visits about every four to six weeks, but you should be able to see results within a couple of weeks.
Will Invisalign Change My Daily Routine?
You'll need to remove your aligner trays when you eat or drink, or brush your teeth. Yes, you still need to brush your teeth and maintain good oral hygiene. You'll also need to clean the trays daily, but you'll need a special cleaner. Toothpaste and a toothbrush can damage the trays, so avoid using those products on your trays. Other habits that you may need to change include:
Smoking: Don't smoke while you're in the Invisalign program. However, you should also refrain from smoking for the good of your health, not just Invisalign.
Frequency of Brushing: Make sure you brush and floss after you eat or drink, and use an antibacterial mouthwash so that food particles don't accumulate under the trays.
Gum: Avoid chewing gum while you're wearing the trays. Although the trays are much more comfortable than other types of braces, you may initially feel some pressure when you install your replacement trays. This is normal and usually disappears within a few days.
The aligner trays won't adversely impact your speech. The plastic used is very pliable, and it conforms to your teeth and gums like the invisible covering that it is. It may take a day or two to become accustomed to the feel of the trays in your mouth, but after that, there should be no discomfort.
Are the Invisalign Trays Really Invisible?
One of the main attractions of the Invisalign system is that the trays are virtually invisible. If a person is in very close physical proximity to you, they may notice that you're wearing something on your teeth, but from a distance, the trays aren't noticeable.
What Happens After the Invisalign Treatment Ends?
When your Invisalign treatment concludes, then your orthodontist may recommend that you wear a retainer for a while so that your teeth remain in alignment. Usually, the retainer is worn for less than a year and only at night, but your Invisalign specialist will advise you of the length of time necessary for your unique circumstances.
Is There an Invisalign Dentist Near Me?
All dental professionals who provide Invisalign must be trained and certified by Invisalign before they can provide the trays. Our dentists can provide the Invisalign system to our patients. If you're interested, then call Dental Associates of Northern Virginia today at to schedule a consultation and determine if the Invisalign aligner trays will help you achieve the beautifully healthy smile of your dreams.